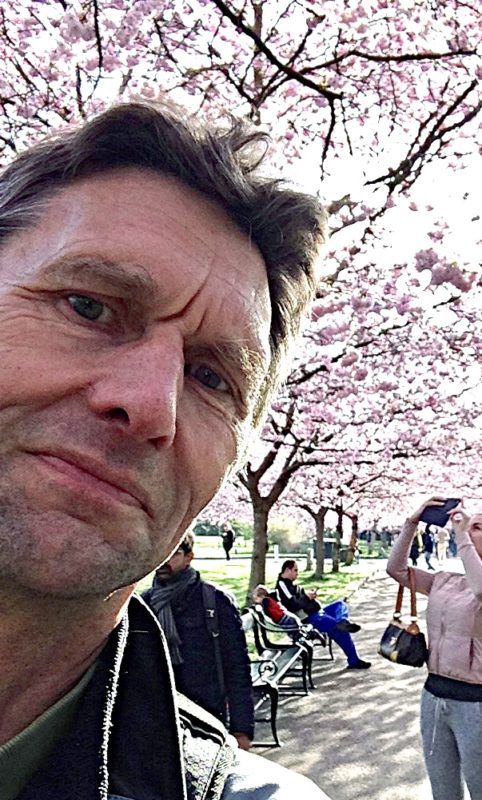 Per Lehmann, 1953. Au-to-di-dakt. Jeg bor i Værløse og maler vejr og lys.
De fleste af mine billeder er malet efter snap shots taget med min iPhone på ture i Hareskoven. Jeg prøver at fange specielle øjeblikke. Som fx når solen lyser på en enkelt gren i en ellers mørk skov, eller når tåge hylder alt i hvidt, eller  hvide skyer på en meget blå himmel, eller kontrasten mellem sne og skygger i kraftigt sollys.
Jeg maler i en minimalistisk stil hvor jeg prøver at fjerne alt der ikke medvirker til hvad jeg forsøger at vise.
I live in a small town outside Copenhagen called Vaerloese. In danish it sounds like weather and light, and that is what I paint – weather and light.
Most of my pictures are painted after snapshots taken with my iPhone in a nearby forest. I try to capture special moments like sunlight through foliage, the uniform grey of a foggy day, white clouds against a very blue sky or the the contrast between brightly lit snow and deep shadows.
I paint in a minimalist style where I try to omit everything that is not contributing to what I want to show with the picture.
Jeg maler med kvalitets akrylmaling på kraftigt Arches 300g vandfarve papir, som er syrefrit og aldringsbestandigt.
De små formater gør, at malerierne let kan sendes i en kraftig papkuvert.
I paint with high quality acrylic colors on heavy Arches 300g watercolor paper that is acid free and age resistant.
The small formats makes shipping in a heavy cardboard envelope easy.
Kunstnernes Efterårsudstilling
København 2001
DR TV Galleri 12
Århus 1995
Hinke Antennefabrik
Bjæverskov 2004
Johan's Art Gallery
Stenestad, Sverige 2015
Selected exhibitions:


Selected as most interesting artist
Highest located gallery in Skaane, Sweden